Two recruited-audience screenings of MUNCHAUSEN were held in late October 1988, in Paramus, N.J., and Garden City, Long Island. Audience members were asked to fill out questionnaires following the film, and the National Research Group compiled and studied the surveys.
Moviegoers in attendance ranged from 15 to 49 years of age (although the majority of those who filled out questionnaires were under 25). The Paramus (defined as "middle class") and Garden City ("upper middle class") audiences were both 51% female and 49% male. There were 182 walkouts, and a total of 781 questionnaires completed. There were also focus groups conducted with about 20 audience members after each screening for more detailed comments.
The importance of an "excellent" or "very good" rating from the total audience is key to the director's ability to control the final editing of the film. Gilliam's contract with Columbia stipulated that if the audience to those two categories combined were lower than 55%, Columbia would reserve the right to final cut, and could demand any alterations they saw fit. The total in Paramus and Garden City were 49% and 51%, respectively.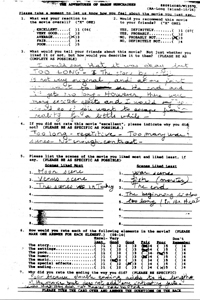 Click thumbnail above to download pdf file of sample questionnaire responses.



Of the Long Island audience, 12% rated it "excellent," 39% "very good," 20% "average," 15% "fair" and 15% "poor." 63% said they would "definitely" or "probably" recommend the film to friends. Paramus scores were roughly the same: 18% "excellent," 31% "very good," 19% "average," 18% "fair" and 15% "poor." 57% would recommend the film to friends.

The special effects and settings were the highest-rated elements. Among choices for "favorite character," the Baron was the overwhelming victor, followed by Sally ("because she's cute"), Berthold and the King of the Moon. Death and Venus were also high scorers.

Favorite scenes were the first run by Berthold, the cannonball ride, the stormy arrival on the Moon, the King of the Moon's detachable head, Death's appearance, and Venus' entrance and dance scene. In the focus groups, many remarked that Adolphus and Gustavus' dialogue in the cabin inside the whale was hard to follow.

The story was described as "different" or "original" most often, as well as "too slow in spots," "not my type of movie," and "confusing." Many audience members were confused by the Baron coming back to life. The picture's length was chosen as the main reason why audiences didn't score it better.



Excerpts From Questionnaire Responses [all quotes proudly sic ]:

"What would you tell your friends about this movie?"
Female, 15-17: "It was the worst! MOvie I have ever seen! It took to long to finish."
Female, 18-20: "I would say it was boring, and would not interest or relate to them at all."
Female, 18-20: "Long, poorly done, cheap effects, not enough romance, sex, etc." [Her favorite scene was Sting's.]
Female, 25-29: "Wonderful adventure, wild characters and settings. Good special effects. Robin Williams is excellent. Overall a very good show. Thanxs."
Female, 30-34: "It was like an old-fashioned fairy tale. Very refreshing. You need to go back to your childhood and remember what it was like when you read Hans Christian Anderson. It opens up your imagination."
Female, 35-39: "Allegorical tale - good/evil, reason/rational thought,must be enlightened to appreciate."
Female, 40-44: "Theatre was very warm."
How would you describe the film?
Male, 21-24: "You have to have a basic understanding of Traditional thought as opposed to logical thought to get an understanding of how the two interact. Visually it was a good movie, and I would recommend it on just the idea of saving the town through fantasy. But for the most discerning movie goer, they might want more history."
Male, 15-17: "It blue dead dogs, because it had no plot."
Male, 18-20: "I saw a very large black man thow boats at the Turks."
Male, 18-20: "It sucked. Shit. + I'm sober."
Female, 30-34: "They were very antique, like in George Washington days."
If you did not rate the movie 'excellent,' please indicate why you did not?
Female, 18-20: "More Sting!"
Female, 25-29: "I don't have the patience fro childlike fantasy films; it reminds me of a bad dream."
Female, 30-34: "Disjointed, disgusting. Were the writers on drugs?"
Female, 25-29: "Wee bit too long. (I can sit through Wagner, so I can sit through anything!")
Why did you rate the ending the way you did?
Male, 25-29: "The hero should always get laid at the end, like James Bond."
Male, 18-20: "After the first three hours, I didn't care."
Male, 21-24: "Movie did not appear like to wanted to end."
Male, 45-49: "Everyone concerned about opening gates when there were huge holes in the walls. Made no sense."
Male, 25-29: "I was expecting one of Gilliam's depressing endings."
Extraneous comments:
Female, 21-24: "The little girl kept saying 'Look!' so many times. It was very redundant."
Male, 21-24: "Don't change it. Will there be a sequel?"
Male, 21-24: "Poor man's Sinbad. Dream sequences are cop outs."
Male 25-29: "I have better real life sci-fi story; if interested, call Tass, 352-XXXX Days."
Male, 18-20: "Turkish women are NOT so fat!"
Who was your favorite character?
Female, 21-24: "The one who kept saying, 'What did you say?'"
Male, 21-24: "The runner. I like senility in a character."
What, if anything, did you find confusing about the movie?"
Male, 21-24: "If there are no virgins left, wasn't the little girl a virgin?"
Female, 21-24: "It was difficult to understand why the Baron was young at times and old at others & why was he alive if he died?"
Male, 18-20: "If the goddess' breasts were really that firm."
Would you take your children to see this film?
Male, 18-20: "No, might scare them from going to the movies in the future."



Out of the 738 respondents who answered the questions, "Do you have children in your household between 5-12?" only 1 out of 7 replied 'yes." The Long Island parents appeared more concerned about the movie's violence and risque material. Though most weren't parents, many in the audience categorized the film as "a children's film."

Because Sting had been mentioned on a flier passed out to audience members, there was a very vocal response from young people demanding to know why he was in only one scene. Their disappointment may have skewed their responses, since their negative ratings on the film as a whole were very high.

In conclusion, the research suggested that tightening the film, particularly in the beginning before the real Baron is introduced, "would likely enhance both the comedy and sense of action/adventure."

"Furthermore," the report continued, "trims in some of the most memorable sequences ... such as the 'real harem,' on the Moon, with Vulcan and in the fish would make these sequences stand out even more."

Note was made in the report that evidently none of the members who took part in focus groups had ever heard of the character of Baron Munchausen.




For Related Articles on THE ADVENTURES OF BARON MUNCHAUSEN by David Morgan:


"MUNCHAUSEN At The Starting Gate" — September 1987 interview with Gilliam, before the madness set in

"The Mad Adventures Of Terry Gilliam" — On Location at Cinecitta (Sight & Sound Magazine, Autumn 1988)

The "Real" Baron — What do you do if you embezzle from royalty and flee the country? You write a book about a Baron who tells bigger lies than you do

Script Development — Analysis of Gilliam and McKeown's screenplay

"Shout For Your City!" — Even cities under siege need bureaucrats

Interview With Eric Idle — The fellow Python talks on the set about surviving a Gilliam shoot

Publicity — How do you sell a film about a character no one in the States had ever heard of?

Litigation — Losing millions of dollars at the box office is no guard against people suing

Essay — Cover notes for the Criterion Collection's 1992 special edition laserdisc