There was never any question that MUNCHAUSEN would be given a specialized, platform release — opening in a few markets to attract notices and word-of-mouth, and gradually expanding into smaller, more rural markets. By comparison, a major studio release with a major box office star, in the late 1980s, might open on 2,000 screens.
Originally the picture has been targeted as a Christmas release. However, the immediate impact of the test screenings was that the picture's Christmas opening was no longer feasible. Unable to point to a specific target audience, Columbia began at this late date to develop ways of selling the film differently to each of several age groups — children, teens, young adults and parents.
(Left: An educational booklet teaching students about an amazing man who lies, steals from a sultan and kisses other men's wives.)
Although Columbia had no other picture to open over the holidays, the decision was made by the studio that, in order to promote the picture, it would have to be sold slowly, building to a release in Spring 1989, in order to give the studio's marketing department more time to familiarize moviegoers with who the Baron was.
In the press, the stated reason was that the film was not ready for delivery, due to the complicated effects work. Regardless of this, the film was opened by its German distributor, Neue Constantin, in early December.
Columbia's strategy was to promote the Baron is different stages over the holidays, initiating over Christmas, and then building towards Easter.
Ad concepts were submitted to Columbia by various agencies. (Most were never approved or fully realized.) They followed the basic precept that, prior to the film's opening, a long campaign would be started to familiarize America with Baron Munchausen.
One suggested course for the first wave of advertising was a campaign featuring real people — some of them celebrities, such as Sting or Magic Johnson — who would enthusiastically proclaim, "I believe the BARON!" This would naturally fuel curiosity: "Who is the BARON?" This teaser would be extended further: "Do YOU believe the BARON?"
This concept went rather far in the development stage, and was even proposed to appear on bumper stickers ("Honk if you believe the BARON!") before being dropped. Evidently some consideration was finally given towards the costs of procuring celebrities such as Magic Johnson for such a campaign.
The second phase of the campaign closer to release would emphasize the spectacle and originality of the picture, and the fact that the Baron was an amazing storyteller. Copy lines would read, "You'll believe it when you see it. You just won't believe what you saw."
If THAT line was confusing, consider some other proposed ad lines which were downright Pythonesque in their bizarreness. They included:
"Some called him a soldier ... Some called him a liar ... Some called him a lover ... Some called him and hung up."

"He brought an entire army of 30,000 to its knees. That's 60,000 knees — probably more knees than you've ever seen in any other movie."

"Adventure doesn't get any bigger than this ... unless you spend more money."

"The most amazing, hilarious, extraordinary, unbelievable stuff that never happened."

"If you can't dream the impossible dream, lie the impossible lie."

"Proof that fiction is stranger than truth."

"The most unbelievable true fiction story never told."

"If this man can save the town from destruction by the infidels, everlasting fame will be his — not to mention a great many valuable discount coupons."

"Outside the gates of the city lurks a plethora of infidels. Plethora ... In olden times the very word struck terror in the hearts of peasants everywhere. Of course today, thanks to modern medical science, plethora has become a thing of the past. But this is now, and that was then!!"

"Baron Munchausen. You've eaten the sausage, now see the movie."

"He made a balloon out of a hundred silk knickers and sailed it to the moon and back. This made for good conversation around the dinner table, but afterwards it was very hard to get a bank loan."
Coarser campaigns suggested by another agency would have bellowed:
"Courage ... Romance ... Fantasy ... Magic ... Honor ... Danger ... Greatness ... Bullshit ... He was full of it. 'The Adventures of Baron Munchausen,' a true story."
A note appended by the agency read, "If 'Bullshit' is not acceptable, 'B.S.,' 'Nonsense,' 'Horsefeathers,' 'B---S---' or something else could be substituted."
An educational booklet was even prepared for youngsters who had seen the movie, complete with a paper doll-like figures of characters.
The U.S. Poster designed by Bemis Balkind / Concept Arts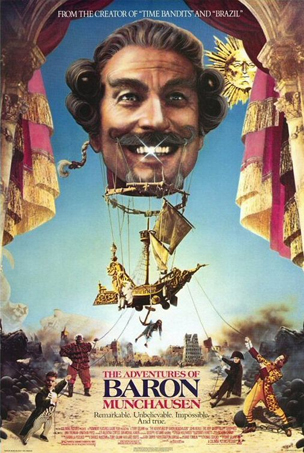 For Related Articles on THE ADVENTURES OF BARON MUNCHAUSEN by David Morgan:


"MUNCHAUSEN At The Starting Gate" — September 1987 interview with Gilliam, before the madness set in

"The Mad Adventures Of Terry Gilliam" — On Location at Cinecitta (Sight & Sound Magazine, Autumn 1988)

The "Real" Baron — What do you do if you embezzle from royalty and flee the country? You write a book about a Baron who tells bigger lies than you do

Script Development — Analysis of Gilliam and McKeown's screenplay

"Shout For Your City!" — Even cities under siege need bureaucrats

Interview With Eric Idle — The fellow Python talks on the set about surviving a Gilliam shoot

Market Research — Audiences at test screenings gave their verdict: What happened to Sting?

Litigation — Losing millions of dollars at the box office is no guard against people suing

Essay — Cover notes for the Criterion Collection's 1992 special edition laserdisc