In the most recent mob films, the focus has not been upon the protection and preservation of the Family as a criminal organization, but upon the lone wolves, those individuals who seek to subvert, challenge and destroy the status quo. Outsiders, disenchanted alumni or greedy members of upstart crime gangs are all ready to stake out new territory, as the power of mob families wanes in importance, standing as a relic of an earlier age when blood ties once meant something.
Whether this signals a return to preeminence of the individual criminal (who hits a bank or armoured truck and disappears, without having to keep up payments on that splashy Staten Island estate) or is an indictment of the winked-at white-collar crime in which large corporations and financial institutions have been blatantly engaging, this pitting of the Lone Wolf against the Organization reinforces the understanding that all of a Mafioso's relationships are now reduced to pure business — entries in a ledger which must add up or be discarded with fatal consequences; any claims towards righteousness or honor are mere dressing, hiding a darker, more ruthless and mercenary side. Let's do business, or I'll kill you.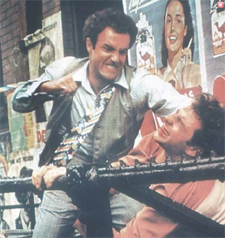 So, what exactly is the current value of a human life, in Mafia land? With an attitude of "Every man for himself" exemplified by these recent lone wolves, it has fallen precipitously low. The increased rate of violent death in these films (in addition to innumerable beatings, threats and public humiliations) shows that whosoever enters the mob orbit does so at tremendous risk, whether he's looking for a piece of the action or simply delivering beer. Typically, the greater the carnage, the lesser its impact, particularly if care has not been taken to develop audience empathy towards the victims. For the most part, those who are "whacked" are anonymous characters, ineffectual bodyguards or hoods in long coats carrying Tommy guns or AK-47s, whose only dialogue may be a scream of pain as they shuffle off this mortal coil. A picture with a steady stream of fatalities throughout its running time is not thinking too philosophically about the tragedy of wasted human potential and the sad end of greedy, unscrupulous endeavors; in fact, it merely reinforces the notion (unlike that depicted in THE GODFATHER) that being a gangster isn't altogether the right career for those looking to collect a pension.

In THE GODFATHER films, the foundation for the Corleone Family's continued strength was loyalty; any deviation was admonished as self-destructive. Most every murder committed was out of revenge for an earlier transgression, either against the family itself or against its favorites. A bad business deal might not engender a ruthless reprisal, but a slander against a Corleone's good name definitely would.


Francis Coppola and novelist Mario Puzo subverted the gangster genre (which had developed from tales of urban bandits such as SCARFACE, WHITE HEAT and THE ROARING TWENTIES) by making this a story of a father and his sons, who just happen to live by extortion, illegal gambling and murder, while fending off rival families. It is upon the strength of loyalty that the Corleone Family's fortunes rise and fall, particularly as it becomes a target for traitors and stoolies (including brother Fredo). [In THE GODFATHER PART III, due out soon, the aging Michael Corleone's empire is up for grabs, promising a violent power struggle from several parties inside and outside of the family.]

Like THE GODFATHER, STATE OF GRACE similarly hinges on loyalty, as the Irish mob in Hell's Kitchen is knocked for a loop during its turbulent negotiations with a downtown Italian Family. The loyalty tested is that of Terry Noonan (Sean Penn), a former street tough who returns as an undercover cop and hooks up with former ally Frankie Flannery (Ed Harris), with the intention of nailing him. In the process he struggles with his ties to his former partner and to an old girlfriend who's outgrown the violence of the neighborhood, and begins to feel the discomfort of being a rat (albeit one serving the public interest). Even Flannery himself is not beyond certain rat tendencies, selling out his own family members in the pursuit of business — the Westies, whose story this film attempts to portray, were notorious for such ruthlessness. Unlike the Corleones, the Flannerys as depicted here are mere opportunists who share the same surname. It therefore takes little effort on Noonan's part to infiltrate and subvert the organization; since there is so little trust at play, there is scant necessity for him to work hard to earn any.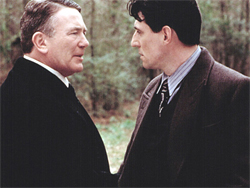 Trust also comes to bear in MILLER'S CROSSING, being that Tom Reagan (Gabriel Byrne), right-hand man to the comfortable Irish mob boss Leo, doesn't believe in it. "Nobody knows anybody — not that well," he says on occasions when trust is asked of him. He views such openness as a weakness, an invitation to trouble, and he doesn't want any part of it. Meanwhile, the virtue of ethics is the rarely attainable ideal for the diminutive, sweaty Italian mob boss Caspar, who would prefer to live a life of genteel decorum but isn't beyond putting a bullet in someone's brain to even a score. Reagan's falling out with Leo allows him to join Caspar's gang, but his seeming coolness about butting heads with Leo may mask a more cunning ploy to return to his old friend's favor by upsetting Caspar's organization and destroying it from within. Reagan is not acknowledging of such tactics, although he provides the instinctual voice of reason to his employers and seems to know where they stand two steps before they get there. His casual, selfish air — which leads him to think he is above the violence that surrounds him, even when he is called upon to kill in cold blood — undermines whatever loyalty he may possess towards Leo. Elsewhere, loyalty is little in evidence. The mayor and police chief, in Leo's pocket at the beginning, sway in the breeze like creaking branches in a storm, popping up in the offices of whomever appears to be winning the mob war. And if one character isn't double-crossing another, he is intimating that others in fact are, in order to protect his own skin.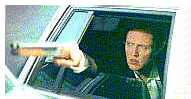 In KING OF NEW YORK, drug czar Frank Black (Christopher Walken), newly released from prison, announces with characteristic verve that he will rid the streets of criminal scum — excluding himself from that category, of course. Black wears the mantle of public benefactor when he proposes to donate proceeds from his drug business to fund a children's hospital, and even announces his intention to run for mayor. But he claims loyalty to no one, and his campaign is merely one of expeditiously eliminating other underworld figures who refuse to conduct business his way, as well as taking onto his team the lowest, most depraved criminals this side of the Thuggees. Yet Black is convinced that what he is doing is for the public welfare — killing to decrease unhealthy competition. [Black even tries to convince the police that he is saving them a lot of trouble by doing their job for them.] It is not the mob but the police, in fact, who kill for reasons of loyalty. Convinced that their legal system "favors the scumbag," several officers set out to subvert the system and clean up the streets themselves, avenging their fallen comrades in the process. Bullets fly, heads are smashed, but they're just not as good at or as brazen about killing people as Black and his henchmen are (with one execution even committed in the middle of a police funeral). Leave it to professionals if you want a job done right.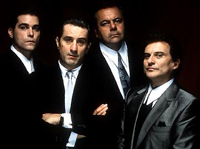 The lone wolf attitude, that it is every man for himself, is firmly tested by Henry Hill (Ray Liotta), who works his way up the ranks to enter the Cicero crime family in GOODFELLAS. Taught from an early age to never rat on a friend, Hill observes the dynamics of mob life and revels in the status his loyalty affords him, until he feels the dangers posed by the Feds begin to surround him, ready to consume all he has worked for. Then, he must decide between becoming an informant and escaping into the Witness Protection Program, or remaining a target for a mob payback. Suddenly, the quiet, suburban lifestyle he so often ridiculed looks a lot more attractive than a bullet with his name on it. With the high-strung Tommy DeVito (Joe Pesci), who would kill at the drop of a dime, and the contemplative but ruthless James Conway (Robert DeNiro), Hill is taken for a roller-coaster ride of brutality and polyester suits. The normal business of torching heavily-insured restaurants, plotting the looting of cargo seemingly his for the taking, and police constantly searching his house, clouds the morals of the life he leads, just as his turbulent relationship with his wife Karen portends the troubles he will engender with his former mob mentors once he starts two-timing them as well. Since Hill is an outsider (unlike the Corleone Brothers), he can't be expected to display the same devotion to blood ties that "Made Men" in the family's hierarchy would, which — in this film's point of view — makes Hill all the more dangerous. For all his talk of fraternity with his comrades-in-firearms, he is definitely out for Number One.

Director Martin Scorsese's anthropological study of this cloistered culture is fascinating mostly because it deals almost exclusively with the foot soldiers of the mob, and not the glamour of bigger fish — what glamour we do see is extraordinarily tacky. Rather than live the life we as an audience might aspire to (who doesn't admire the assured, persuasive suavity of Michael Corleone?), these brutal, narcissistic and unenlightened characters can swing one's attitudes about the rightness of a death penalty. Yes, a strong arm enforcer might carol an operatic aria on his way to a crime scene, but the hoods in these films live for their free-spending status, thinking it is the pinnacle of their existence — which, unfortunately, it is. But being accountable to no one means, ultimately, that they are answerable to anyone they cross. Hence, the crowded cemetaries, dumpsters, freezer units and river beds . . . .