"Now that CAPE FEAR is such a success, probably there are 400 young executives at all the Hollywood studios plowing through all the films that they had never any intention of ever seeing, and saying, 'What do you think about that one [for a remake]?'"
Having taken the directing reins for only the second time in his career, veteran producer Irwin Winkler, the man who gave Rocky Balboa wings and brought the Mercury astronauts down to earth, is instead tucked away in a divey Manhattan bar, supervising production of NIGHT AND THE CITY, based on the Jules Dassin classic film noir.
Having hired Robert De Niro a year earlier for his directorial debut, GUILTY BY SUSPICION, Winkler is teaming up with him again. What's more, De Niro is co-starring with Jessica Lange in this, a remake of a black-and-white thriller, shortly after wrapping CAPE FEAR. It's deja vu all over again.
Though he is co-producing NIGHT AND THE CITY with Jane Rosenthal, Winkler appears to have eased into his role as director. Whenever he questions the combative role of the producer within himself, Winkler recalls a telling incident on the set of NEW YORK, NEW YORK: "We were over-budget on that picture, and Marty Scorsese was directing Liza Minnelli in a scene where Bob De Niro was proposing marriage to her. It was an 8:00 a.m. call and it was now 9:30 at night, and everybody was exhausted. We were shooting on a soundstage, we had fake snow and all the gas, Marty has asthma — it was a real mess. The next day we had an early call to shoot a location, so I said to Marty, 'You did 26 takes of this scene with Liza, don't you have it yet?' He said, 'Look, on the last take I think I saw a tear coming out the corner of Liza's eye. I think if I do three or four more takes I can get that tear. Do you want me to go for the tear, or do you want me to stop?'
"I thought about it last night at three o`clock in the morning; you can't let the producer part of you take over. You should always go for the tear."

The protagonist of NIGHT AND THE CITY, Harry Fabian [played by De Niro], could be described as one who 'goes for the tear,' without regard to the consequences. An ambulance-chasing shyster lawyer whose caseload includes prostitutes crying entrapment, Fabian cannot fool anyone but himself with his wild aspirations of rising above his station. Although his gladhandedness appears desperate at times, there is a glimmer of intelligence to Fabian's maneuverings, or at least an opportunism when events at first glance appear to go against him. His pathetic case of assault against a spindly featherweight boxer suddenly reveals an ulterior motive, in furthering his dreams of success in a new career — that of a fight promoter. Fabian can use his hail-fellow-well-met attitude to good advantage in calling in favors from former clients; but when he cannot pay back loans or meet his obligations, the shady figures with whom he has dealt as a lawyer take a very different approach now that Fabian is a client himself.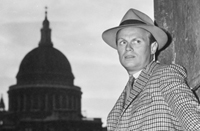 The original NIGHT AND THE CITY (directed by Jules Dassin in 1950 and starring Richard Widmark) was set in London and centered on the world of wrestling. In style and setting, the picture rode the wave of that period's film noir melodramas such as OUT OF THE PAST and the director's own NAKED CITY, a picture which would have seemed to insure Dassin's success in Hollywood had he not later fallen victim to the blacklist. Forced into exile in Europe by the witch hunts of the House Un-American Activities Committee, Dassin did the picture for Zanuck in England, but its lack of distribution kept it from a potentially admiring audience.
Back in 1985, Bertrand Tavernier had suggested to Scorsese that the film's sinister machinations would be ripe material for an updated treatment. Richard Price (who had scripted Scorsese's THE COLOR OF MONEY) did the screenplay, which ended up stuck in one development deal after another for years. Once Winkler got hold of a copy, however, he passed it to De Niro, and the dust was finally cleared.
Price, who had just come off production of MAD DOG AND GLORY and was finishing his latest novel, "Clockers," could be forgiven for not scrupulously attending rehearsals and shooting of his long-dormant script. "Yeah, I was there, but basically you want to make yourself scarce. When people see the screenwriter they feel like something should be rewritten, whether it should be or shouldn't. So you just want to, like, duck out as much as you can. Out of sight, out of mind."
Scorsese had expressed his love for grade "B" films during the making of CAPE FEAR, his big-budget remake of a cheap noirish thriller; having taken many liberties with the source material, Scorsese managed to elevate the conflict of the leading characters without denigrating the original.
Price, however, will have none of that, and does not feel he owes anything to one's memory of the original NIGHT AND THE CITY: "I mean, it's a B-movie, you don't have to be respectful of B-movies. They'll never remake CITIZEN KANE, but they'll remake every Republic picture of the '40s. The original NIGHT AND THE CITY had a great Machiavellian plot, but I thought the characters were color-by-number.
"I just wanted to update it, and I didn't think wrestling was of interest — it seemed sort of juvenile. Boxing was a lot more sinister, and a lot more visible and current in people's imaginations. And make it New York now as opposed to London then. Your name is on it, so you try to give it as much depth as you can, but I never lost sight of the fact that I was doing a remake."
Price did quite a job of making the characters more complex, and less clear-cut than their `50s counterparts. Lange's character, Helen, the wife of Phil the bar owner, still conspires with Fabian to obtain her own liquor license, but now they share the central romantic interest of the film as well. The character of Mary Bristol, played by Gene Tierney, was dropped altogether. Kristo, the wrestling impresario who warned Fabian about protecting the health of his dad Gregarius, is now "Boom Boom" Grossman, the estranged brother played by Alan King. And Fabian, originally a hustler in a nightclub. is now a lawyer.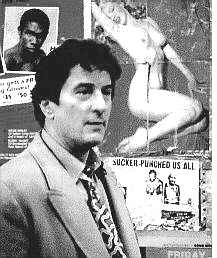 Winkler was attracted to the story by the idea of somebody trying to make something better of himself, the same yearning for a higher position in life that spurred Marlon Brando in ON THE WATERFRONT, or Sylvester Stallone in the Winkler-produced ROCKY. In this case, a Rocky-like quest for success supplants the film noir theme involving a test of one's moral strength. Fabian's downfall isn't brought on by lust for a fallen woman or by greed for a fast buck — it is by the unstoppable force of his own huge ego seeking affirmation.
Fabian believes he deserves heretofore elusive success, that he has paid his dues and should be rewarded for it. He believes in a sort of Destiny, or at least a "pay-back," but it is a selfish Destiny, one that merely suits himself. "The character De Niro plays is very different than the character he plays in MAD DOG AND GLORY," says Price. "Here he's basically playing a mouse who thinks he's a cat. In MAD DOG he plays a guy who's a loner and introverted, kind of plodding and methodical. It's like a very different metabolism."
Helen is also a wily figure whose felonious past is a cipher. She two-times her husband in order to facilitate the opening of her own restaurant, and makes lofty plans with Fabian that may not reveal her real goals — and which Fabian encourages merely to speed along his own agenda. "I think that's very much the '80s and '90s way," says Winkler. "Purity and dirt all kind of rubbing together now, it's all shades of grey. Harry Fabian is a lawyer, an officer of the court sworn to uphold the law — and in the '90s those are the guys you got to watch as much as anything else! All these people hide behind what they are.
"We have men that do a lot of wrong things and somehow get away with it easier. De Niro's character has the same sleaziness [as a '50s crook], but he's on the right side of the law. It's harder to catch him. He's not quite so obvious."

Boxer's, a sprawling neighborhood bar in Greenwich Village that is heavy on wood paneling and sports pictures, has been appropriated for several weeks to shoot major scenes for the film. Winkler confesses a disdain for using studio sets for interiors, preferring to shoot on actual locations, even if the street life passing by the huge windows is not readily visible.
The bar is crowded with well-dressed people, young and old. The back room is filled with some odd-looking extras, a mixture of families and raspy sports page devotees. There isn't an empty table in sight. The atmosphere is friendly, except when Fabian gets into tiffs with the owner (Cliff Gorman) or other customers. Winkler doesn't seem patriarchal on the set; he stands in the back, probably as he often had as producer counting the ticks of the clock. He is easy-going, yet focused, closely watching the video assist monitor and conferring with DP Tak Fujimoto and assistant director Joe Reidy.
Winkler, 61, is a New York native whose production credits — solo and in partnership with Robert Chartoff — date from the late 1960s. Following a career as a personal manager for the likes of Joni Mitchell, Winkler produced an Elvis Presley vehicle, DOUBLE TROUBLE, followed by Sydney Pollack's THEY SHOOT HORSES, DON'T THEY? His biggest critical and/or commercial successes of the past two decades include the first four ROCKY films, NEW YORK, NEW YORK, TRUE CONFESSIONS, THE RIGHT STUFF, 'ROUND MIDNIGHT and GOODFELLAS.
Winkler was comfortable with the role of producer, putting his weight behind different stories he wanted to see on screen, and getting to work with some impressive directors, until the desire to direct himself seemed ripe. "I felt I had more or less done the films I wanted to do, and I found there were just so many directors that I as a producer cared to work with. I loved working with Marty Scorsese, I loved working with Bertrand Tavernier — I would have loved to work with Oliver Stone — but there's a limited group of great directors out there. So I figured I'd try to join that group."
For Winkler's first directing credit, GUILTY BY SUSPICION (a brooding drama on the serpentine '50s blacklist), the influence on the film's look was Vincente Minnelli, whose '50s melodramas such as THE BAD AND THE BEAUTIFUL were slick, highly-polished studio products. "If anything, I'm trying to do this a little bit more my own, as far as the characters and style of the film. Because I want it to be very brash, very bright." Working with Fujimoto (whose credits include many of Jonathan Demme's films, including SOMETHING WILD), Winkler is painting New York as an imposing, colourful place, a character in itself.

"It's not a film noir," says Fujimoto. "This version is not as dark as I had originally thought it would be, after looking at the 1950 black-and-white version, which was very striking visually. The skeleton of the original movie is there, but it's a much different treatment. In the beginning I sort of got the impression that Irwin wanted a very realistic kind of movie, very streetwise, and much more gritty. And then in pre-production he started veering into a more colourful palette. The tone is much lighter, even though the subject matter is pretty grim!
"I did one scene in which I used smoke and he didn't care for it very much. He said, 'I want to be able to see these characters!' Another person directing could have said, 'Yes, I want it to be dark and moody' and it would have been a different movie."
In fact, New York plays a much different role than what Los Angeles played in GUILTY BY SUSPICION. In that film, L.A. afforded a deceptively easy sense of security for characters under attack by forces larger than themselves; they loved their comfortable world, but their world contained sinister figures lurking in the shadows who would hurt them. Here, New York itself imposes upon and attacks the characters, who have to harden themselves and fight back just to survive. Security is non-existent. While the interior of Boxer's seems muted, a safe haven perhaps from the cruelty hovering outside, there is an edge to the warm colors; there's no softness or smoky ambience that suggests comfort or anonymity.

Near the end of the shoot, the dance club Palladium — as brash a place as one could hope for — has been festooned with banners and posters featuring the smiling visage of Harry Fabian (announcing "The Return of People's Boxing to New York!"), surrounding a beckoning boxing ring in the center. The scene shows the preparations underway for the six-fight card that evening. Boxes of boxing gloves ("free to the first 200 customers!") are stacked around the aisles, creating a maze. Jack Warden (as Al Grossman, a former boxer and righthand man to Fabian) gets into an argument with an imposing but gangly bouncer; De Niro then rushes in to break up the scuffle, while the combatants roll off-camera.
From far off, the emotions that spark this fight seem minimalist, almost ridiculous. A few caustic remarks, and a 70-year-old man slams a young punk taller than he to the ground. Watching on the monitor and seeing the picture framed close-up on Warden, however, one can see the emotions swell up, ready to burst. It reminds one of a typical New York Post story about a shooting involving two people who just happen to look at each other the wrong way — a sign of the coarseness of city life, where everything is unpredictable and too forceful to overcome. Life-threatening hazards are actually instruments of Fate.
"I think it's brash in attitude," Winkler says of the film. "I think we have the city [and] what it represents intruding constantly. The language is brash, the violence, the passion — it's all a part of New York today. There's either an ambulance coming at you or a cab'll run you over, or somebody holds you up.
"I attacked this whole thing as a kid out of film school. It's all brand new. And they didn't fire me, so I'm happy!"
Perhaps the happiest on the shoot was Price, who — with a minimum of effort and a commendable degree of patience — saw his work finally given the treatment it deserved. "They didn't change anything, just little tiny stuff here and there. If you want to call that reverence, you know, he didn't deviate from it. I mean, there's nothing religious about it; it was basically the way it was eight years ago."
Well, did the writer have the urge to rework the material in any way, after such a long gestation period? "What, are you kidding? What kind of question is that? No, I really wanted to do a million fucking rewrites!"