Following his first producer's credit on the 1984 drama HEART LIKE A WHEEL, Charles Roven has overseen production on an eclectic mix of features, from the Robin Williams comedy CADILLAC MAN to the thrillers FINAL ANALYSIS and CITY OF ANGELS.
Roven chatted on the Baltimore set of TWELVE MONKEYS in Spring of 1995, discussing how the project began rolling, and how it was able to attract the talent it did.
Morgan: How did this project get started?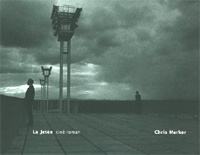 Roven: One of the executive producers, Bob Kozburg, came to me with the Chris Marker 27-minute photo-novel, I guess you might call it [a book of still images from Marker's film]. I was very taken by it and felt that it would be a terrific thing to try and make a full-length feature film out of it.
I had a working collaboration with David Peoples since 1985 on several projects. We had a deal at Universal to make movies together and I asked him if he would be interested in doing this. He was looking for something to collaborate [on] with his wife Janet, and I had thought it was a very good idea, because I knew that her input could also help the material have that romantic ambiance about it that it needs besides being a thriller. So I sent them the film, they looked at it, he was also haunted by certain things about it.
How did you negotiate with Chris Marker? And how receptive was he to the idea of remaking his film?
It was very interesting because Chris Marker had been approached by many people for a long period of time, people inquiring into film rights to LA JETTE, and he had resisted it because — I don't want to say that money wasn't a factor but money wasn't a primary factor, it was who the creative people involved were going to be, particularly the writers. Because he was not at all interested in any kind of faithful adaptation or remake as it were.
[TWELVE MONKEYS] mainly takes its inspiration from that work. And because Chris wasn't looking for any kind of faithful remake or adaptation he was just interested in the creative integrity of the writers. He wanted to meet with [them] and hear what their take was. Funny thing about Chris is, he wasn't even particularly interested in whether or not he liked the take, he just wanted to hear and make sure that he could sign off on it, based on its creative integrity.
He absolutely refused to sign any rights agreement if it was longer than three pages, because if it was longer that three pages he wouldn't be able to understand it. Which caused the studio for a while, their normal rights agreement is 20 pages. But working with one of the business affairs executives, just shows you what can be done, if there's a will: we got it down to Chris' three pages.
Once Terry came on board, how was Universal in terms of their backing the film?
It's a very interesting thing because the actual movie-making management that's there now was not there when the whole BRAZIL episode happened. Of course, Lew Wasserman is still there, so is Sid Sheinberg, and the thing was really between Terry and Sid. Even though Terry and Sid had a pretty big disagreement, there is absolutely no question that there is also a definite respect they have for each other. I'm not saying that they speak, ever, but there is definitely a dynamic there of respect — a respectful disagreement. I don't think either one thinks the other one's a jerk. I think they respectfully disagree.
So Universal was very open, desirous of having it happen. They did want to make sure that fiscally they weren't on an unlimited hook. So we had to get a completion bond company involved.
Not Film Finances, I presume? [Film Finances was the guarantor which took control of MUNCHAUSEN during that production's tempestuous filming.]
Not Film Finances! You know, I have produced I think six films, five have been bonded by Film Finances, and none of them have ever gone over budget, so I have a pretty good relationship with Richard Soames [of FF], and I just felt I had to call him, and we had a pretty good laugh about it. But I did make the call!
When Terry made BARON MUNCHAUSEN at Columbia, during its post-production and release, my wife Dawn Steel was head of the studio. And Terry's relationship with Dawn, I would say, also had its disagreements. Respectful disagreements! And so, you know, Universal and the husband of Dawn Steel, the chances of that happening — I think the irony of it was too much for [Terry] to resist.
And they have been, they were very, very difficult on budget. Every day I wish they had given us more money.
The picture is co-funded by Universal and Atlas?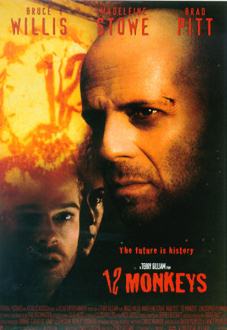 Well, Atlas is a partner in a co-venture of several international, I'll called them entities, because not all of them are in theatrical business, but one of the markers is Shochiku out of Japan, another is Polygram and the BBC, in a joint deal. TeleMunchen. And there is going to be a fourth partner in France. [But] Universal was financing the movie irrespective of that.
But wouldn't that take the pressure off of them fearing a runaway budget?
Terry and I have many times talked about that, and I was somewhat surprised by that, but in fact Casey Silver (who is the president of the studio) makes his decisions about the movies he wants to make, the prices that he is comfortable making them at, completely independently [from] what the financial structure of the deal is. That's the kind of attitude they're taking to make sure they're not making films for the wrong reasons.
How did Bruce Willis and Brad Pitt come on board?
Terry had been talking with Bruce about working with him since FISHER KING. Brad had been a big fan of Terry's and wanted to work with Terry, and Madeleine as well; Terry attracts fabulous actors. Also, the script was one of those scripts that from the very first draft we had, you know, scripts from good writers somehow escape into the environment of Hollywood and people read them and "track" them, track what activity is swirling around the project. And I don't think that Bruce had read the script before Terry was involved but he loved the script, was very interested.
Madeleine read the script and was very interested. Brad had as well. Once the word got out that Terry would try and make this as his next film, those elements just sort of came [together].
Can you describe the kinds of changes that went into the script from the time of the first draft to shooting?
The basic story [was] there from first draft. The shooting script is a bit more romantic.
What has most surprised you about Terry from having worked with him and gotten to know him better?
It's extraordinary how much [Terry] knows and is able to realize on film, using that knowledge. I've had a great time working with him. He's really very smart, very creative and a lot of fun.
I'm very surprised about how well he knows himself. He knows where he's strong, and he knows where he's not as strong. He told me what was going to happen in the making of this movie, what the process would be, and he's been incredibly accurate. So that was surprising.
Just very, very different from what the perception is of him out there, that was less surprising to me because I've known quite a lot of people who have a particular received persona in the public eye and [it's] very rare that they're the same. So it's surprising but less so, his knowledge of what he would be like during the process of making the movie, and he was exactly like that at every stage: This is how I'll be here, this is how I'll be here.'

For Related Articles on TWELVE MONKEYS by David Morgan:


TWELVE MONKEYS On Location — Production Story (Sight & Sound Magazine, January 1996)

Interview With Terry Gilliam, March 1996 — Wide-ranging discourse on the fallout of MONKEYS, reminiscences on JABBERWOCKY and TIME BANDITS, and why he won't direct a STAR WARS film